Hi,
i'm restoring a Thorens TD125. Can anyone tell me where i can Mirror finish the outer platter? (somewhere in Klang Valley)
Thank you
Best regards

kglim3691

New Member





Number of posts

: 7


Age

: 57


Location

: kuala plah


Registration date :

2014-10-07



I don't know where you can do it professionally.
But I did the polishing of my Lenco platter by myself to quite a satisfactory shine. Not exactly "mirror" like but shinny enough to reflect light.
All you need is some "elbow grease" and some time.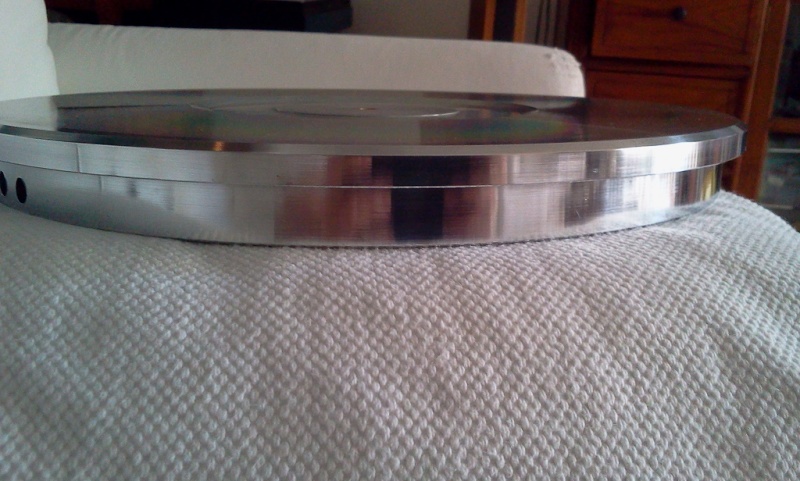 sph

Frequent Contributor





Number of posts

: 326


Age

: 59


Location

: PJ


Registration date :

2009-03-04

Character sheet
Source(s):
Amplification:
Speakers:


Hi SPH
thank you for your post. I managed to find the solution and only costs RM10, but before i get to that...
When i started my TT project 6 months ago and until today, i have visited a lot of HiFI shops in Klang Valley, unfortunately most still have the attitude of 'i know what's best for you' and it's gonna cost you!
Take this case of repainting TT top plate and polishing the platter. One 'uncle' in AmCorp Mall told me this is 'specialised' work, very difficult to do piece meal, each item will cost minimum RM300 to RM500! and I only help you 'cos i'm fellow vintage TT enthusiast.
Well, a buddy of mine took me to a car paint shop (BMW specialist), they'll sand blast and repaint the top plate in high gloss black for RM100.
As for polishing the platter, i went to see a 'specialised' metal polishing company. The boss told me no need to spend money to skim, chrome, etc. just go to car exhaust shop a few doors down. They will polish for you. i went over and 10 minutes later, all done, Mirror Polished!
btw that same 'uncle' at AmCorp Mall, wanted to sell me a Shure 97xE for RM680. That gave the game away on the 'specialised' work. Doesn't he  know we can get it on eBay for RM300? 
I know it's biz for those HiFi specialist, so have to make money, but you don't have to 'slaughter' us and feed us nonsense. We can get most information on the Web and we have friends and there are honest biz people out there.
Thanks All for reading

kglim3691

New Member





Number of posts

: 7


Age

: 57


Location

: kuala plah


Registration date :

2014-10-07



Hmmm.. my take is there's limits and careful consideration to polishing a TT platter. Painting it up, powder coating or other added thick coating is probably a no-no for me. If it was any good benefit, manufacturers would have done this time and again. However, a very light coat of protective lacquer is permissible against tarnish or corrosion. As for polishing technique, this is debatable and how its done. Heavy handed procedures can possibly remove metal or layers that can be detrimental to the sound and may affect its dynamic balance. Sand Blasting?. hope its done evenly. Also another proposition of machining it down to remove aged spots, corrosion, tarnish, discoloration, all result in removing metal in principle shouldn't happen. This isn't the same as some engine manifold, wheel rim or some show off component in a car.
I have hand polished only the rim of my age old Linn LP12 Mazak platter which looks superb todate, with a new coat of acrylic lacquer. It took countless hours to hand polish it up. This was all DIY couple of years ago. Looks very very nice and I'll not want to involve myself with that again..too old for this. LP12 purists are likely to scoff at what I did. Nevermind them, at worst I can always buy a spanking new platter, that solve the entire issue. My 2 sen.

cmboy

Frequent Contributor





Number of posts

: 1298


Age

: 38


Location

: The Eagle's Nest


Registration date :

2009-03-11

Character sheet
Source(s):
Amplification:
Speakers:


kglim3691,
A non-regular service like platter polishing will most likely be cost quite a fair bit.
I can't positively say that the hifi shop will send the platter to an exhaust shop to do the polishing or to a platter specialist. If it was going to send it to an exhaust shop to do the job, it would have been really a "slaughter"  for that price quoted.

However, if it was going to be sent to a hifi specialist  who only does platter polishing, it may cost a fair bit and the profit could be marginal for the hifi shop you approached.

Being a non-regular customer of the hifi shop,  you may not get a fair quote for the intended service. This is quite commonly practised in many shops, not just hifi shops. I don't know the going price for the Shure 97EX here in Malaysia. But I do agree with you that RM680 for it is expensive when it can be bought for so much less online. I too get much of my stuff online.

But a smart consumer will always look for the best price. And you, being one, have opted to search for other sources and found one. Others may not want the trouble of going around looking for other sources. So they pay the price.

It was good info about using exhaust shops to do the platter polishing. But like cmboy has mentioned, the platter is quite a delicate component which we do not want its balance disrupted. Overly aggressive polishing may skim off some platter material which may affect the platter's balance. I think that as long as it is not sanded down it's fine. For the top plate, sand blasting is fine. In fact I too had considered doing my Lenco's top plate in a car paint shop. The paint job will be more permanent than the original.

I will consider the exhaust shop option the next time I need to polish mine in future. Thanks for the tip!
For the time being I am quite satisfied with my hand polished platter rim. Only cost me a few cents for the Brasso and an hour or so of my time.

sph

Frequent Contributor





Number of posts

: 326


Age

: 59


Location

: PJ


Registration date :

2009-03-04

Character sheet
Source(s):
Amplification:
Speakers:


Similar topics
---
Permissions in this forum:
You
cannot
reply to topics in this forum