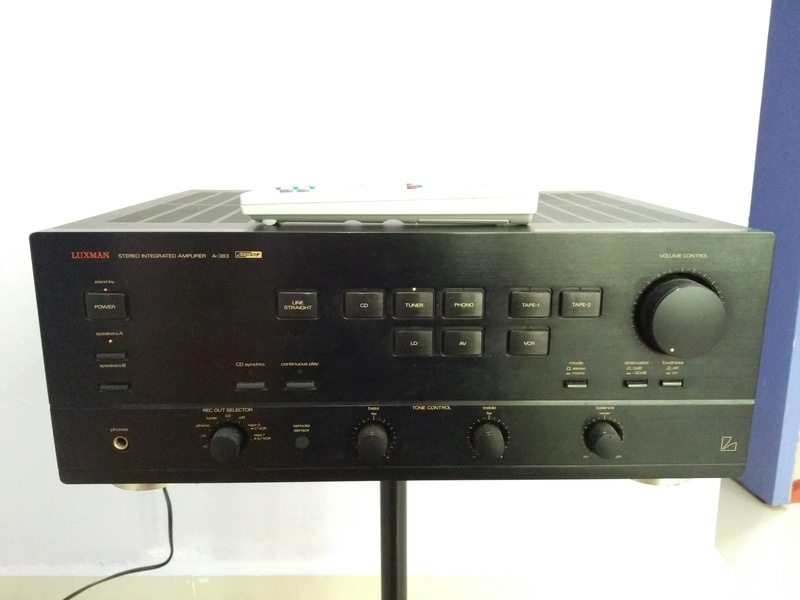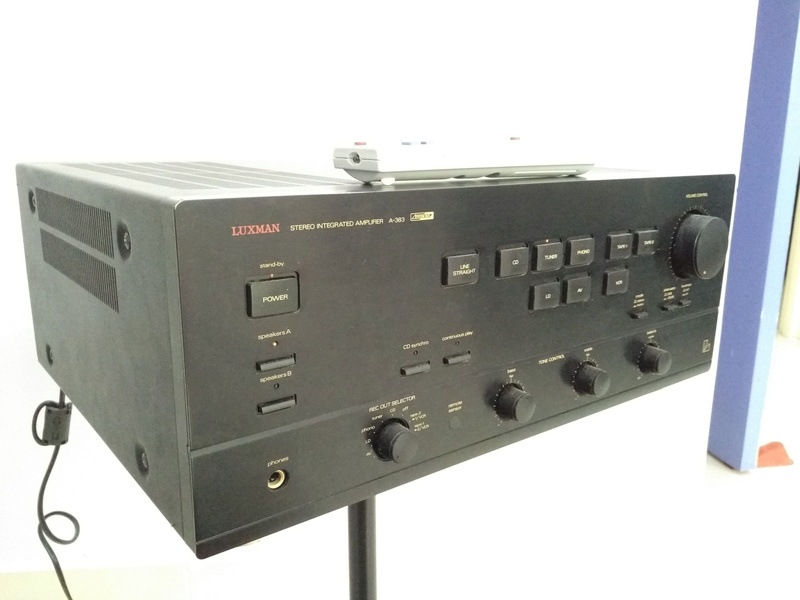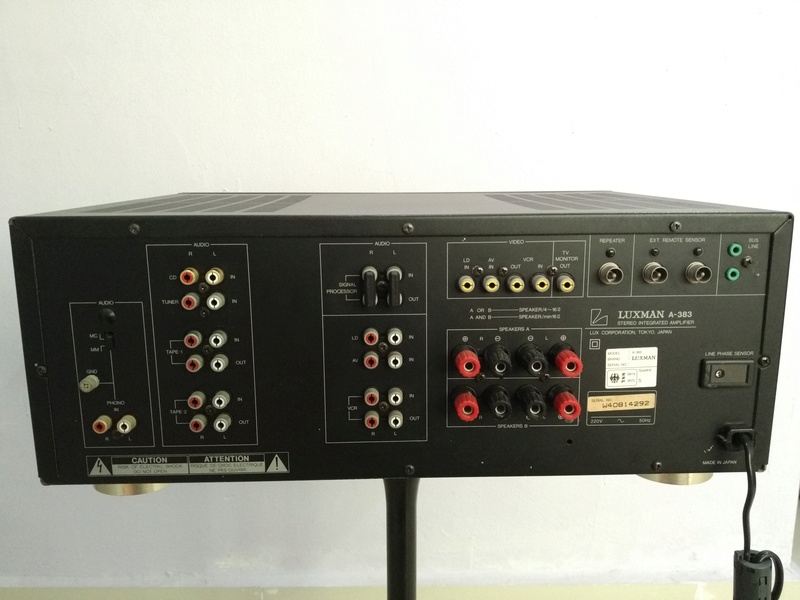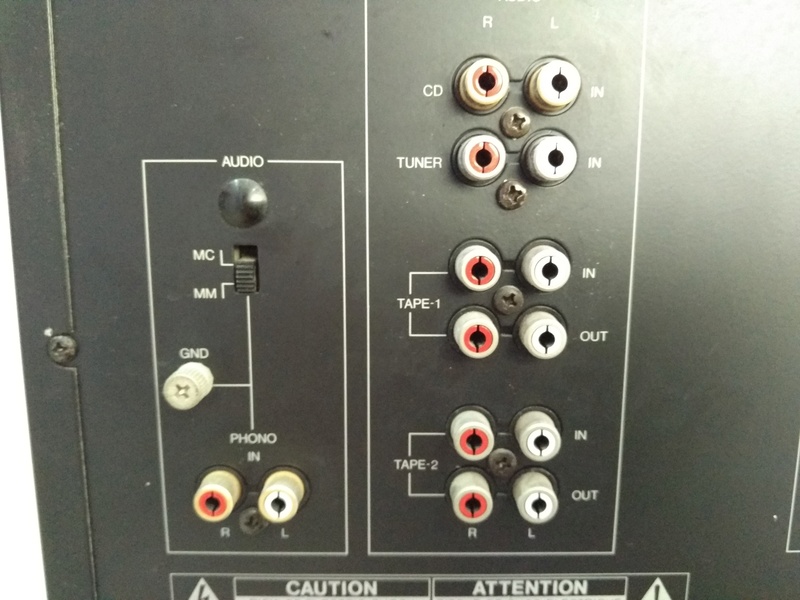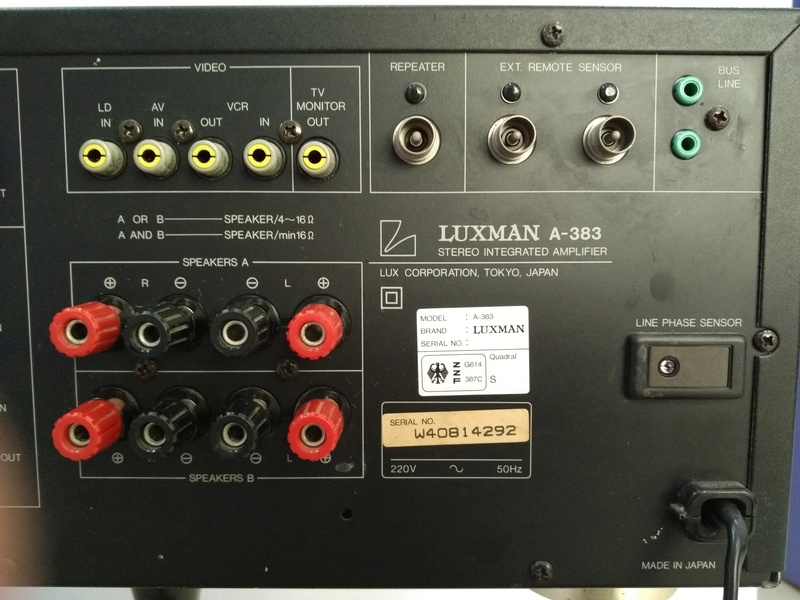 Made In Japan
Flagship Luxman A-383 integrated amp.
Rated 100 watts per channel into 8 ohm.
Have both MM/MC phono input.
Excellent smooth sound.
Can listen whole day without fatique. the Luxman A383 really serves this music right. Vocal quality is superb and all the acoustic instument-details are reproduced in their most minute detail.
Due to the huge dynamics it comes close to the warmth and attack that can only be realised with much more expensive valve-amps.
Additionally this thing can really rock ! It has lots of inputs: CD, Tuner, Tape1, Tape2, LD, Video, Aux and a MC/MM switchable Phono and outputs: Tape1, Tape2, Video, Aux It has pre/poweramp seperated by chinch connectors,IR Remote, Direct source, Copy source selector and loudness and a great 90% dynamic range .
User Review For Reference :
The Luxman A-383 is a powerful and versatile stereo integrated amplifier with a number of features rarely found in this type of component. Although a two-channel amplifier and therefore not a self-contained audio/video control center, it is easily connected to an external surround processor and a video monitor, VCR, and laserdisc player. In its size, weight, price, and general appearance, however, the A-383 is closer to today's large A/V receivers than to a typical integrated amplifier. It is conservatively rated at 100 watts per channel into 8 ohms with less than 0.04 percent distortion and has enough current capability to drive loads of 4 ohms or less easily and safely.
The large front panel presents a familiar and undaunting array of controls, most of them large rectangular buttons. They are clearly labeled CD, tuner, phono, tape 1, tape 2, LD (laserdisc), A/V (audio/video), VCR, and power. A Line Straight button bypasses the tone controls and such switchable functions as a 20-dB attenuator and loudness compensation (both operated by smaller buttons). Other small buttons select two pairs of speaker outputs, stereo or mono operation, and two functions related to the use of a compatible Luxman CD player in a system with the A-383.
The large volume-control knob at the right is motor-driven when operated from the supplied infrared remote control. Several smaller knobs along the bottom of the panel operate the bass and treble tone controls and the balance control, and a record-out selector enables recording from any input source regardless of which is being listened to. A nearby headphone jack completes the front-panel array.
Despite a considerable population of jacks (more than thirty), the A-383's rear apron does not present a confusing or overwhelming appearance (unlike that of some complicated A/V receivers), thanks to the amplifier's generous dimensions. There are inputs (and outputs, where applicable) for all the sources, plus a video output for a TV monitor. There are also jacks that enable a signal processor (such as a surround-sound decoder) to be inserted in the signal path. Additional jacks are provided for optional remote-control accessories that can integrate the amplifier into a multiroom system.
The phono input can be switched for a moving-magnet (MM) or moving-coil (MC) cartridge. The speaker outputs are insulated multiway binding posts that accept single or dual banana plugs, stripped wires, or lugs. A unique feature of the A-383 is the Line Phase Sensor indicator on its rear apron, designed to detect incorrect AC-line polarity (which could be a shock hazard or a cause of hum in the system). The A-383 has no AC convenience outlets.
Preconditioning the A-383 (driving both channels to one-third of their rated power into 8-ohm loads) left the top of the amplifier only moderately warm, still comfortable to the touch. Since that kind of operation normally generates the highest temperatures an amplifier will experience, it is safe to say that the A-383 will present no heat-dissipation problems in a home installation. During extended listening tests the top was never more than faintly warm to the touch.
At 1 kHz, the outputs clipped at 135 watts per channel into 8 ohms and at 210 watts into 4 ohms. The dynamic (short-term) output was substantially greater, and in that test we also drove 2-ohm loads, to an impressive 440 watts per channel. From 20 Hz to 20 kHz at a constant 0.1 percent total harmonic distortion plus noise (THD+N), the amplifier delivered between 127 and 130 watts per channel into 8 ohms and between 181 and 193 watts per channel into 4 ohms.
A spectrum analysis of the distortion components was even more impressive. At 125 watts into 8 ohms at 1 kHz, the combined level of all distortion products up to 20 kHz was a minuscule 0.006 percent, or -84 dB. With a 4-ohm load, at 180 watts output, the distortion was even lower- 0.005 percent, or -85 dB.
Other measurements were equally impressive. The frequency response with Line Straight engaged was a virtually ruler-flat +0.01 dB from 20 Hz to 6 kHz and down just 0.1 dB at 20 kHz, rolling off to -3 dB at 110 kHz. Even with the tone controls in the signal path, the response deviations were only slightly greater.
The tone-control characteristics were almost perfectly symmetrical about a 1-kHz center frequency as well as about the response axis. Although not a particularly critical matter, a number of tone controls we have encountered have had characteristics only loosely related to their settings. The Luxman A-383's tone controls produced curves resembling textbook illustrations.
Switching on the loudness compensation introduced a boost of 4 to 6 dB at low and high frequencies, relative to the 1-kHz level, that did not vary with volume setting. Though hardly an important consideration for most listeners, that characteristic is a departure from the original concept of progressively compensating for reduced hearing sensitivity at frequency extremes as the overall level is reduced.
Although we did not use any of the A-383's multiroom capabilities, the system remote control can operate a number of other Luxman components (tuner, CD player, tape deck) as well as select inputs and vary the volume setting on the amplifier.
As its weight and bulk suggest, the Luxman A-383 is built like a battleship, and there was clearly no skimping in its design and construction. Although its weight is given as 14 kilograms (about 31 pounds), it felt heavier. As in every other characteristic, however, this beautiful amplifier matched its specification, weighing in at 31 pounds on our scale.
Our tests and use of the Luxman A-383 left no doubt that it would be an excellent choice to serve as the heart of the finest home audio (or audio/video) installation.
Price : RM 2250
Contact Simon Ting 012-3612507

HiFiLab

Dealer\Reseller\Trader\Service Provider





Number of posts

: 1963


Age

: 38


Location

: klang


Registration date :

2011-03-12

Character sheet
Source(s):
Amplification:
Speakers:



HiFiLab

Dealer\Reseller\Trader\Service Provider





Number of posts

: 1963


Age

: 38


Location

: klang


Registration date :

2011-03-12

Character sheet
Source(s):
Amplification:
Speakers:


---
Permissions in this forum:
You
cannot
reply to topics in this forum