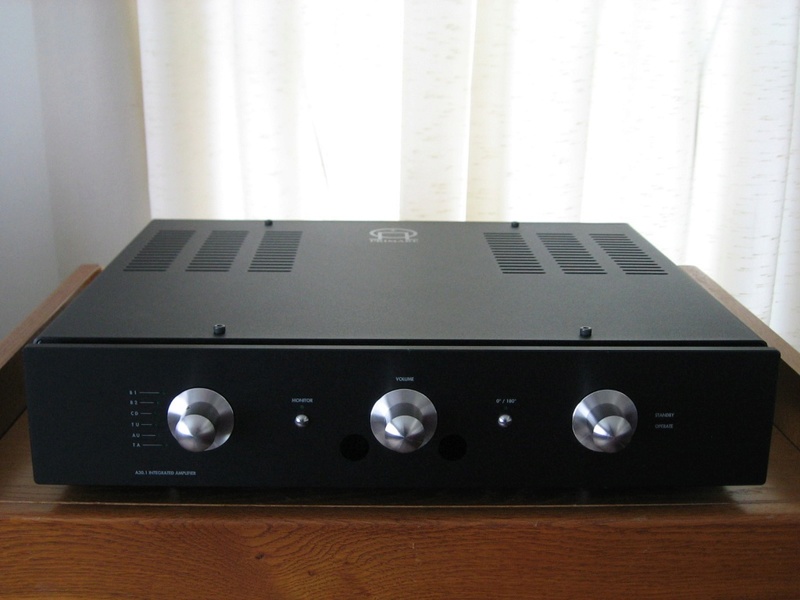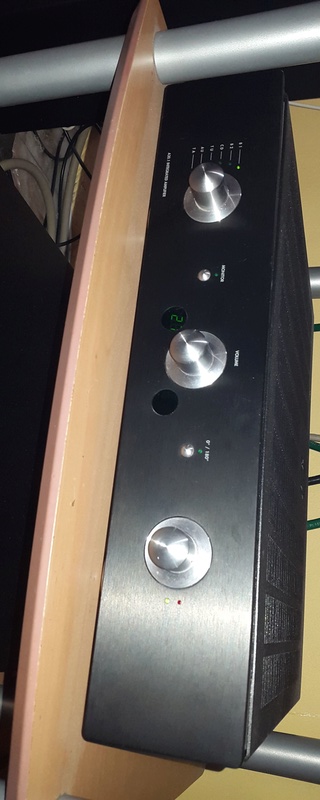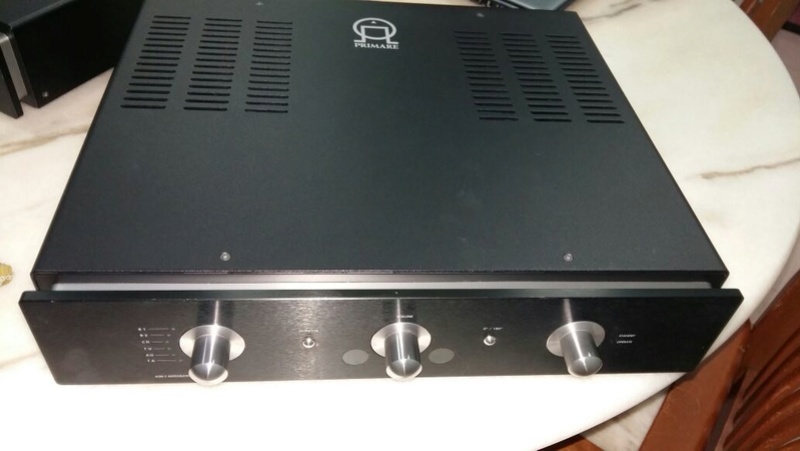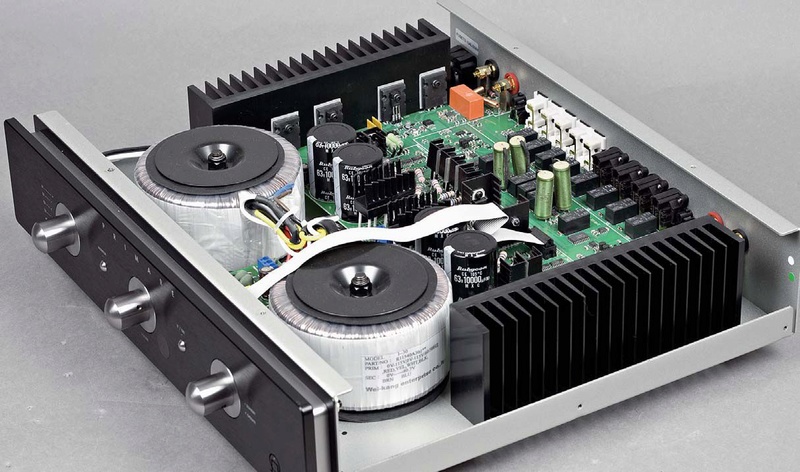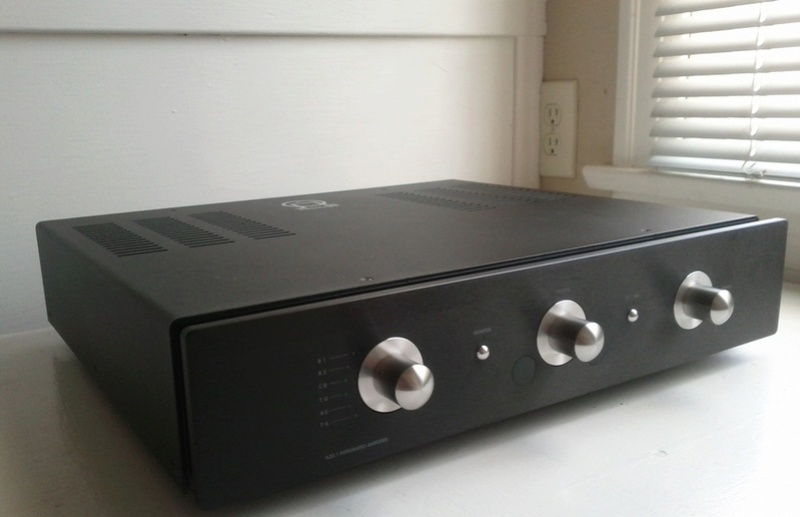 Primare A30.1 Dual Monoblock System Integrated Amp-Many 5 Stars Award Winning Model (Solid Built and Heavy Sweden Made High End Amp).
This is an upgraded MKII version (A30.1 Mk II = 3 Feet on Casework, pre-outs, fascia change from Mk I. Component upgrade. 5 star WTF review.)
Selling this Multi Awards Winning Primare A30.1 Integrated Amp because of upgrading to tube.
Primare 30.1 is more of a straightforward and simple amplifier design. It does not have any tone controls nor the balance control knob on the front facia. That is because the volume control is a very high precision unit that not only maintains excellent balance between channels at any volume, but increases or decreases the volume in very small increments, an excellent feature especially if the speakers have high efficiency drivers.
The back of the amplifier has 6 line level inputs, 2 XLR inputs, speaker terminals and pre-outs to the extreme left and right respectively, detachable three prong AC plug socket and a sole ground terminal.
The power output is 100 watts at 8 Ohms and at 4 Ohms a very respectable 180 watts. This is a true high current design amplifier and dishes out a whooping +/- 40A of current when called upon to do so by current hungry speakers, likes of the 4 Ohm Kef's.
In the last few years, Primare have been successful in creating a niche market for their products getting accolades from critics in audio circles. In the late 90's audio engineer, Michael Bladelius formerly of Pass Labs and Threshold, joined Primare and as a result new product line was developed in 10, 20 and 30 series components. In fact, this particular amplifier, Primare A30.1, is an award winning design from the same era.
THE HEART OF THE MATTER (SOUND QUALITY)
 
Primare A30.1 maybe a 100-watt amp but when driven hard gives one an impression of the amplifier being a lot more powerful that what the specs would suggest. From my experience I have always noted this with amplifiers of high current designs. This type of design is excellent in dealing with music having very high dynamic range. It is a thorough-bred powerhouse in disguise. Thrashing the mighty with its control on raw power, authority on sound, neutrality and depth. Bass is simply outspoken in this amplifier. Clarity worth competing with the best.
 
It is dual mono, weighs around 15 kg and is very well finished. It also has one set of balanced inputs. It sounds much more natural compared to the amplifiers mentioned above with more than enough control and grip. The tonal balance is excellent with a particularly well defined midband.
An excellent Integrated Amplifier at any price.
The design & outlook of the newer I30 with the A30.1 is very much alike. With the same power output, specifications too. The Primare claims that they have re-evaluated the A30.1, changing components where necessary to improve a class-leading design.

They still remain the circuit design which it was designed by Michael Bladelius formally from Pass Lab & Threshold. Now, he is with his own brand "Bladelius" which produces Hi-End products from Pre, Power, Integrated, CDP, Transport & more.

This amp is considered as collector's item, I think. It's rare to get it from the 2nd hand market with this excellence condition at this price.

Please check online reviews to view many 5 star range reviews given for this best known amplifier model.
https://forum.audiogon.com/discussions/review-primare-a30-1-amplifier
https://www.audioasylum.com/messages/amp/18826/
Condition: 9/10 with fully functional original remote (maintained in a plastic wrap) and original packing box for easy delivery and transportation.

Still in a very brand new condition due to less use.

Price: RM3900 (nego) original price was around RM9000++
 
Very well maintained in smoke free and pet free environment.
 
Unit is in KL but can arrange delivery to other locations.
 
Contact: John (012-5885 270)  Please whatsapp for more photos and other info.
 
Thank you hifi4sale
Last edited by john101 on Thu Jul 13, 2017 12:35 pm; edited 3 times in total (Reason for editing : Add more photos)

john101

New Member





Number of posts

: 15


Age

: 40


Location

: PJ


Registration date :

2016-01-17




john101

New Member





Number of posts

: 15


Age

: 40


Location

: PJ


Registration date :

2016-01-17



Similar topics
---
Permissions in this forum:
You
cannot
reply to topics in this forum