RCA 5R4GY (5U4G/ 5U4GB/ 5AR4/ GZ34) tube
A 1944 RCA 5R4GY with dark brown base and double getters.
It isn't as warm and tends to sound more neutral and has a more treble oriented sound overall. 
Very airy treble, a nice open midrange with a huge soundstage, and lighter bass. 
Tonality is colder than the other tubes but has some warmth, this tube has a slightly forward midrange that's open and very clear sounding. 
The soundstage offering plenty of space with lots of air, the separation between instruments is very pronounced here, 
The decay is more fast and not liquid smooth but liquid fast, offering an almost SS like presentation at times, but without the grain or edge. 
Bass is still tight and well controlled and defined, but offers a little less texture and a faster decay. 
Impact is also less and the bass notes seem to be spread out more and seem a little more distant. 
Detail and clarity is great but this tube lacks a little bit in timbre and tone. Transparency is good but not great. 
Overall, this tube is a good performer for the price.
Condition: very strong unit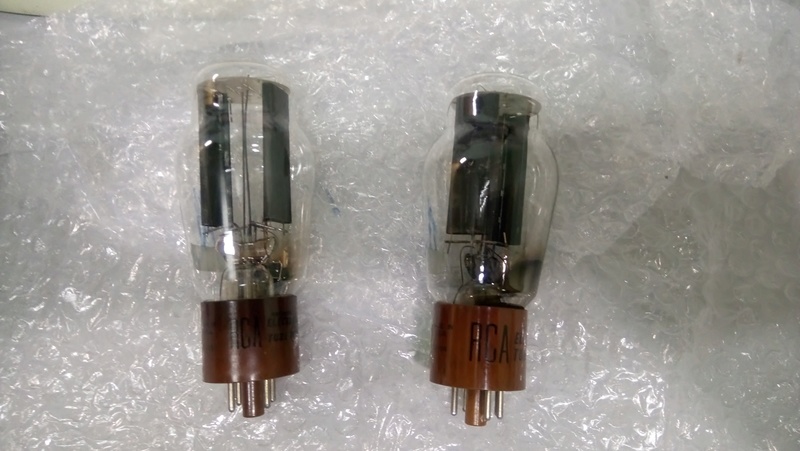 RM220 for 1 unit
RM15 for shipping charge
Noted: Sold 1unit at 25/07/2017
Call/ whatsapp Lee 0122083669
Last edited by leeweichen_chen on Fri Feb 23, 2018 9:09 pm; edited 2 times in total

leeweichen_chen

Frequent Contributor





Number of posts

: 218


Age

: 39


Location

: melaka


Registration date :

2010-08-25

Character sheet
Source(s): Bladelius Freja, Rega RP6
Amplification: Yaqin MS33B (phono), Primaluna(pre), primaluna (power)
Speakers: Sonus Faber Guaneri


Bump!!
Before hifi show
Bump!!

leeweichen_chen

Frequent Contributor





Number of posts

: 218


Age

: 39


Location

: melaka


Registration date :

2010-08-25

Character sheet
Source(s): Bladelius Freja, Rega RP6
Amplification: Yaqin MS33B (phono), Primaluna(pre), primaluna (power)
Speakers: Sonus Faber Guaneri



leeweichen_chen

Frequent Contributor





Number of posts

: 218


Age

: 39


Location

: melaka


Registration date :

2010-08-25

Character sheet
Source(s): Bladelius Freja, Rega RP6
Amplification: Yaqin MS33B (phono), Primaluna(pre), primaluna (power)
Speakers: Sonus Faber Guaneri



leeweichen_chen

Frequent Contributor





Number of posts

: 218


Age

: 39


Location

: melaka


Registration date :

2010-08-25

Character sheet
Source(s): Bladelius Freja, Rega RP6
Amplification: Yaqin MS33B (phono), Primaluna(pre), primaluna (power)
Speakers: Sonus Faber Guaneri



leeweichen_chen

Frequent Contributor





Number of posts

: 218


Age

: 39


Location

: melaka


Registration date :

2010-08-25

Character sheet
Source(s): Bladelius Freja, Rega RP6
Amplification: Yaqin MS33B (phono), Primaluna(pre), primaluna (power)
Speakers: Sonus Faber Guaneri



leeweichen_chen

Frequent Contributor





Number of posts

: 218


Age

: 39


Location

: melaka


Registration date :

2010-08-25

Character sheet
Source(s): Bladelius Freja, Rega RP6
Amplification: Yaqin MS33B (phono), Primaluna(pre), primaluna (power)
Speakers: Sonus Faber Guaneri



leeweichen_chen

Frequent Contributor





Number of posts

: 218


Age

: 39


Location

: melaka


Registration date :

2010-08-25

Character sheet
Source(s): Bladelius Freja, Rega RP6
Amplification: Yaqin MS33B (phono), Primaluna(pre), primaluna (power)
Speakers: Sonus Faber Guaneri



leeweichen_chen

Frequent Contributor





Number of posts

: 218


Age

: 39


Location

: melaka


Registration date :

2010-08-25

Character sheet
Source(s): Bladelius Freja, Rega RP6
Amplification: Yaqin MS33B (phono), Primaluna(pre), primaluna (power)
Speakers: Sonus Faber Guaneri


---
Permissions in this forum:
You
cannot
reply to topics in this forum