Item: Pioneer SC-LX86 AV Receiver
Condition: 8.5/10.  Item in excellent condition. No scratches or dents. Very low usage over weekends only. One previous owner only. Comes with original remote, manual, calibration mike.
Price:
RM3500
RM2900
Contact: 012-3816611
9.2 Channel THX Ultra2 Plus, Air Studios AV Receiver with 8x HDMI, USB-DAC, 4K Pass Through, WLAN and MHL for Android
Pioneer's top-flight AVR will easily cut the mustard as the beating heart of any high-end setup
PIONEER SCLX86
AV Receiver
"A multichannel powerhouse, this sets a new benchmark at this pricepoint." What Hi-Fi Sound & Vision magazine.

The very highest specification with THX Ultra 2 Plus certification to show for it, the Pioneer SCLX86 simply doesn't compromise.

MASSIVE CONSTRUCTION AND AIR STUDIOS TUNING

With the Pioneer SC-LX86, Pioneer has focused on the chassis as much as the electronics, to the benefit of both sound and picture quality. The 3-D Space Frame construction with Insulated Dual Chassis uses a two core chassis for additional isolation. Such attention to engineering detail ensures that the delicate digital stages don't suffer from the power supply vibration that can afflict lesser receivers. Better isolated components make for less distortion and therefore a cleaner sound and picture. Ensuring that the SCLX86 goes the extra distance, Air Studios fine tune the design, ensuring that it meets true pro standards and expectations in terms of sound quality.

MASSIVE POWER WITH AUDIOPHILE QUALITY AND THX ULTRA 2 PLUS CERTIFICATION

With in this impressive chassis is an audiophile-grade Class D amplifier that brings power and quality in equal measure. The high efficiency digital Class D amplifier produces a window-rattling 150 watts per channel while still using around 44% less energy than a comparable analogue amp. The circuit design features short signal paths and quality components for the most accurate and detailed sound quality. When connecting a Blu-ray player via HDMI, proprietary PQLS technology ensures a jitterless transmission. Essentially, this means that the resulting sound quality is smooth and natural and exactly as the film studio originally intended. When all this is taken together, it's no wonder that the SC-LX86-K received Ultra 2 Plus certification from THX - the highest standard available to a domestic home cinema product.

OPTIMISED VIDEO INCLUDING 4K PASS THROUGH

With Advanced Video Adjustment, the Pioneer SCLX86K optimises the video signal according to the type of screen or projector used. It uses information from the MCACC calibration system and even adjusts image quality according to how far you sit from the screen. In addition to this, the SC-LX86-K also features Stream Smoother. Used with low resolution video from online sites this improves the blocky and grainy quality, making it more acceptable to watch on a big screen. This Pioneer AV receiver comes with 4K pass through enabled HDMI sockets, making it ready for the next generation of super HD TVs and sources. There's also 1080p video upscaling, ensuring you get the very best picture quality on your existing Full HD TV, whatever the source quality.

CONNECT YOUR PC VIA THE REAR-MOUNTED USB DAC

Uniquely within the Pioneer range, the SCLX86 features a rear-mounted USB DAC. Rather than using the inferior analogue output from your PC, this connection lets you connect up your PC or Mac via USB and take advantage of the superior quality DAC built-in to the Pioneer.

FULLY COMPREHENSIVE NETWORKING INCLUDING WI-FI, AIRPLAY AND MHL

Featuring a front-mounted HDMI socket that's compatible with MHL, it's easy to plug in your Android phone with just a single cable. With this you can then stream high quality video and audio plus charge your phone as an added bonus. There's also Apple AirPlay compatibility, DLNA streaming and a standard wi-fi dongle for wireless connectivity. Apple's AirPlay lets you wirelessly stream music from any compatible Apple device - without the need for a separate home hub. DLNA streaming gets you access to music stored on your PC, laptop or NAS and plays it through the receiver. There's also access to Internet radio and music services, making the SC-LX86-K a fully comprehensive streamer.

IMPROVED CONTROL

In addition to offering multiple networking possibilities, the SC-LX86-K keeps control better than ever. The new iControlAV2012 app lets you control more functions than ever via your smartphone or tablet (Apple or Android). With this app, you also have access to the receiver's advanced sound features such as Sound Explorer, which displays more than 18 of Pioneer's unique sound adjustment functions on one screen, and Virtual Speakers, which lets you create your ideal sound field, even when real speakers are not set up. The Pioneer is also compatible with Air Jam. Air Jam is a Bluetooth-based app that lets a group of people connect with their iPhones, iPod Touch or iPads and add their songs to the receiver playlist. In effect it's a local, social network for music and works well with the SC-LX86-K (optional AS-BT200 Bluetooth adaptor required).

AWESOME RANGE OF CONNECTIONS INCLUDING TRIPLE HDMI OUTPUTS

When it comes to connecting more conventionally, the Pioneer SC-LX86-K is one of the best there is. Eight HDMI sockets offer full compatibility with 3D TV and ARC (Audio Return Channel) for a less cluttered cable connection. There are also no fewer than three HDMI outputs! One of these HDMI outputs has been specifically designed as a multi-zone video output, making the SC-LX86 one of the most comprehensive multi-zoned receivers to date. Also standard is an iPod Digital USB connection. This allows plug-and-play flexibility without the need for a further docking station. The sound quality will be better than many docks, too, as you're using the processing power of the Pioneer rather than the dock's. Better still, Pioneer's Advanced Sound Retriever system enhances the typically compressed music from MP3/AAC systems and returns the sound to CD quality.

The best in sound, video and connectivity. The Pioneer SC-LX86 has got it all.

| | | |
| --- | --- | --- |
|   |   |   |
| Channels | The number of channels. 2 or 2.1 systems are used by stereo receivers. 5.1 is the basic surround standard. 6.1 adds a rear centre. 7.1 adds side effect speakers. 9.1 adds further 'high' front effect speakers. .2 adds a second subwoofer for more even, balanced bass. 5.2.1 etc show Atmos channels. | 9.2 |
| Power Output | Maximum power output per channel - RMS into 8 ohms | 150 x 9 |
| Dolby ProLogic/Surround | Dolby analogue surround sound system - for TV and video. Pro-Logic II features stereo effect rears, whilst Pro-Logic IIx can output in 6.1 or 7.1. Pro-Logic IIz is the latest system and enables greater flexibility in expanding a 5.1 playback system to 7.1, or a 7.1 system to 9.1. Surround is the new version of Pro-Logic II. | ProLogic IIz |
| Dolby Digital | Dolby Digital Surround works from a digital source such as DVD player or Blu-ray player. | |
| Dolby HD | High Definition Dolby decoding that is designed to get the very best from high resolution sources such as Blu-ray. | |
| DTS | Digital Theatre System - a rival to Dolby Digital. | |
| DTS HD | DTS-HD High Resolution Audio delivers sound even more accurate and consistent than standard DTS. It has been designed to extract the most from HD-DVD and Blu-ray. DTS-HD Master Audio takes this one step further and is capable of delivering audio that is bit-for-bit identical to the original. | |
| DTS:X | The current flagship DTS processor. Like Dolby Atmos it renders sound in a more immersive fashion. Unlike Atmos, it doesn't require a specific speaker configuration. | |
| THX | THX certification ensures a high standard of performance. Select, Select2 and Select2 Plus certify small systems while Ultra, Ultra2 and Ultra2 Plus certify home cinema systems designed to be used in larger rooms. "2" is the current standard with "2 Plus" adding additional THX technologies such as loudness level control. | Ultra2 Plus |
| HDMI Audio | Does the HDMI interface carry multi-channel audio? Only newer versions of HDMI carry multi-channel audio as well as video signals. | |
| Upscaling | Does the AV receiver feature upscaling? This improves the picture quality of all sources by increasing the number of lines via the HDMI output. 4K is currently the highest resolution followed by 1080p and then 1080i. | 1080p |
| 3D Ready | Are the HDMI sockets able to pass through 3D signals? | |
| HDMI | Number of HDMI inputs/outputs. Number that will accept HDCP 2.2 is in brackets. This is the standard required for 4K streaming services. | 8 in/3 out |
| USB | Number of USB sockets. | 2 |
| PC Input | Can a computer be plugged in via a D-SUB VGA socket? | |
| Component | Number of Component inputs. | 3 |
| Composite | Number of composite video inputs. | 4 |
| Multi-Channel Input | Does it have a multi-channel analogue input? - uses 6,9 or 11 RCA phono sockets and allows for the connection of Blu-ray players with built-in digital decoders. | |
| Coaxial Inputs | Number of coaxial digital inputs to input digital sources such as DVD player. | 2 |
| Coaxial Outputs | Number of coaxial digital outputs to loop digital information through. | 0 |
| Optical Inputs | Number of optical digital inputs to input digital sources such as DVD players. | 2 |
| Optical Outputs | Number of optical digital outputs to loop digital sources through. | 1 |
| Active Subwoofer Output | Does it have a separate connection for an active (powered) subwoofer? | |
| Dedicated Port | Does it have a dedicated port for extras such as iPod dock, Bluetooth or DAB radio? | |
| Audio Inputs | Number of audio inputs on both front and rear of unit. | 7 (inc phono) |
| DLNA Compliant | DLNA stands for Digital Living Network Alliance. It is an alliance of interested bodies that help standardise streaming content. If a product is DLNA compliant you can be assured it will stream music from your PC, laptop to TV or other device. | |
| Wireless Connection | Whether a wireless or, Wi-Fi, connection is included as standard or optional (via dongle). This allows for wireless connection to your home network hub. | |
| Internet Radio & Services | Does it have access to Internet radio and other online music services? This can be via control app rather than the unit itself. | Y |
| Multiroom | Does the product feature multiroom compatibility? This can either be passive (pre), which requires additional amplification or active (powered - just add speakers). | Zone 2/3 - passive Zone 2 Powered |
| Eco Friendly | Does this product conform to energy efficient standards? These standards include the American "Energy Star", the European "Energy Flower" or "EcoLabel" and the UK EST (Energy Saving Trust) certification. | |
| Power Consumption - Standby | This is the power used in watts when the unit is switched off but still powered at the mains and ready to be turned back on. | 0.1 |
| Power Consumption - Normal Use | This is the power used in watts when the unit is on, using standard settings. Note, different manufacturers use different methods to arrive at this figure. In some cases only the maximum power consumption is quoted. | 370 |
| Tuner Radio | Type of radio built-in. DAB is Digital Audio Broadcasting. | FM/AM |
| Remote Control | Is an Infra-red remote included? | |
| Smartphone Remote | Can you use a Smartphone (iPhone or Android) to control the unit? | |
| Dimensions | Dimensions of unit (W x D x H) mm. | 435 x 441 x 185 |
| Weight | Weight of unit, unboxed, in KG. | 18.0 |
| Apple AirPlay | Does the unit support Apple AirPlay? Apple AirPlay lets you listen to your entire iTunes music library from a suitable iOS device such as iPod Touch, iPhone or iPad. Best of all, the system is wireless and so is ideal for building up a wireless multi-room system. | |
| Bluetooth | Does the unit support Bluetooth? A built-in Bluetooth receiver lets you stream music from a suitably equipped device such as a smartphone, tablet, laptop or PC. | Optional |
| HDMI Zone Out | Does the product feature HDMI Zone out? This provides a second HDMI output to give the same or a different source sound and vision in another room. Watch TV in one room and a Blu-ray in another, for example. | |
Actual item: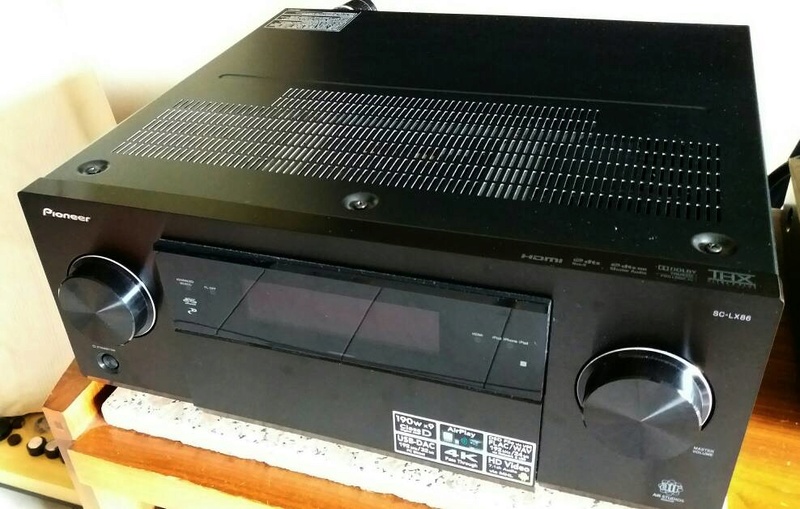 Website:
https://www.whathifi.com/pioneer/sc-lx86/review
http://www.pioneer-audiovisual.eu/eu/def/products/sc-lx86
https://www.avforums.com/review/pioneer-sc-lx86-av-receiver-review.409
https://www.richersounds.com/printproduct/PION-SCLX86
Thank you.
---
Permissions in this forum:
You
cannot
reply to topics in this forum