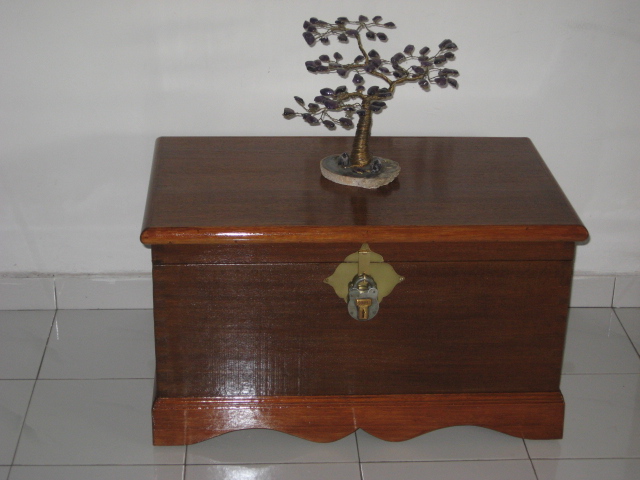 Decorative brass with solid brass latch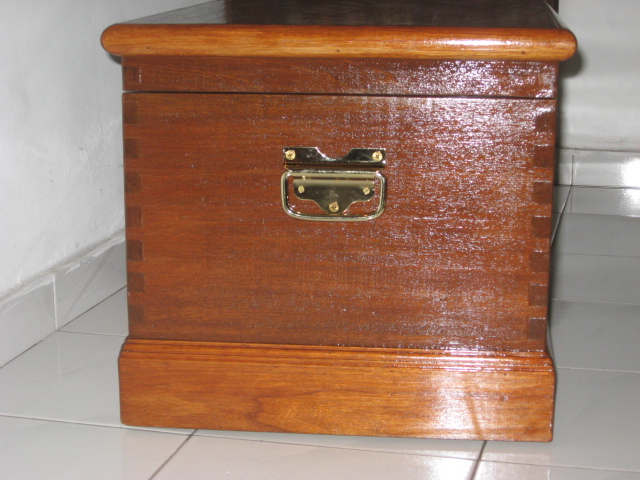 Brass plated solid metal lifting handle with brass screws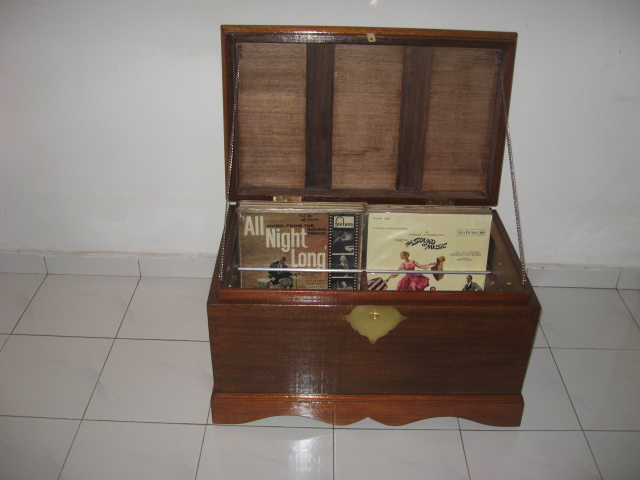 Overall internal view with LPs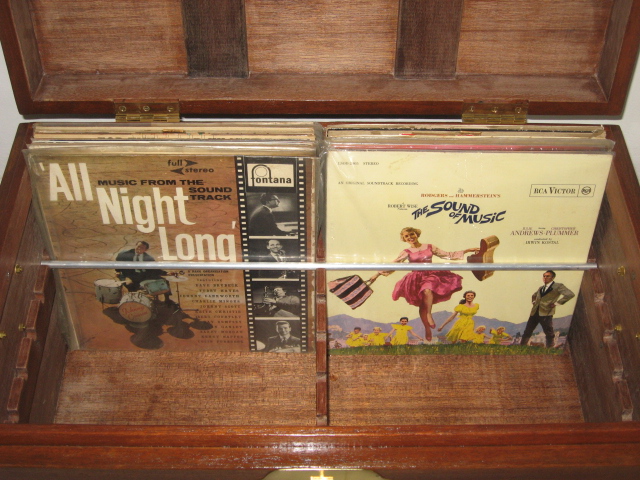 5 adjustable slots with removable aluminium rod & centre-wood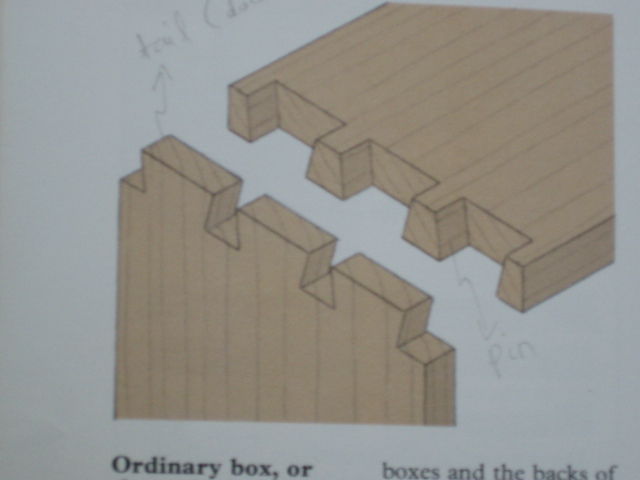 Example of dovetail joinery used
The Objective
The primary objective of this handcrafted chest is to provide storage
for LPs against dust, heat, moisture, humidity, insects as well as humans!
(It can be pad-locked).
The secondary objective is to provide an extremely sturdy and strong
hi-fi furniture which with simple/proper care will last a lifetime!
As the aluminium rod and centre-wood are removable, the chest can be utilized
for other hi-fi related material.
The Project
This whole chest is made from solid-wood. (no plywood, mdf, chipboard used)
The main-frame is constructed using 3/4" thick one-piece wood and
joined together via time-honoured dovetailing joinery for its superior
strength. No nails are used at this joinery.
This chest is made single-handedly via hand-tools from start to finish.
The top-lid closes with an almost airtight fit while the anti-dust panels
prevents undesirable dust and insects from creeping into the chest.
Base support is attached to the main-frame via screws and
reinforced with wood glue.
For ease of movability, 8 castor wheels ( Hammer brand ; Japan made )
are fitted. External finish is ICI Timbertone ( lead-free ) for durability.
The Specifications
Overall External Dimensions : 74.2 cm (L) x 46.3 cm (D) x 42.2 cm (H)
Weight : 23 kgs (empty)
LP Storage Capacity : 210 pcs along 2 columns
To Own It
RM1200 nett (excluding transport, pad-lock and LPs shown above)
That's comes to approximately a packet of economy rice for a year's supply.
Contact No.
H/P : 012 4490536

chestman

New Member





Number of posts

: 2


Age

: 52


Location

: kinta valley


Registration date :

2010-06-10



the problem with keeping LPs in a big wooden chest is that it's also a perfect lab enviro to grow stuff. The LPs actually end up becoming petri dishes for culturing new strains of molds and fungi, just as the chest is as good as keeping humidity out, it would be just as good as trapping humidity inside as well.
Just IMO of course...


mugenfoo

Frequent Contributor





Number of posts

: 2668


Age

: 42


Location

: All over


Registration date :

2009-04-04

Character sheet
Source(s): Technics Compact-Cassette Deck
Amplification: DIY Kit 15Watt
Speakers: Pasar Road Special.


mugenfoo wrote:the problem with keeping LPs in a big wooden chest is that it's also a perfect lab enviro to grow stuff.
Perhaps the best trunk chest (commonly found in this side of Asia) are those made from genuine camphor wood and they'd preserve clothes or precious belongings for decades. The Chinese have used camphor furniture to store clothes.
Yes, I have a very old genuine camphor chest (inherited) and it still contains some of my mom's personal belongings like her wedding dress for example. There happen to have some books there and I don't see any deterioration although some yellowing. The items are near prestine condition after many decades. It was always been in there till today. Anyway, I wouldn't want to keep records inside as there's some degree of impracticality from my POV. Since I place a table runner and some decorative items on it most of the time, I'd have to remove everything from the top to open the chest. Of course it would be less a chore as seen in this poster's pictures. I've no experience with trunk chests made of other natural wood material so can't say. Camphor wood is tried and tested.

cmboy

Frequent Contributor





Number of posts

: 1298


Age

: 38


Location

: The Eagle's Nest


Registration date :

2009-03-11

Character sheet
Source(s):
Amplification:
Speakers:


Perhaps a little bit of history on why this chest design type would be of some help.

At present I have in my possession 2 chests that were made way back in the late 80s of local wood. One is a storage for books and the other for LPs. As of today, although some pages of the books have turned yellowish, the books and the LPs are still in good condition.

The current chest design is specifically for LPs as there are air-gaps at the sides, top and between the 2 columns. This means that the LPs flat jackets do not touch the wall of the chest.

Molds are naturally around us and they need 2 basic ingredients to grow i.e food and water. Therefore, for any storage be it anywhere, it is important to ensure that the place of storage as well as the item be stored is not damp.

Remember "garbage in, garbage out" ?

Regards

chestman

New Member





Number of posts

: 2


Age

: 52


Location

: kinta valley


Registration date :

2010-06-10



Similar topics
---
Permissions in this forum:
You
cannot
reply to topics in this forum